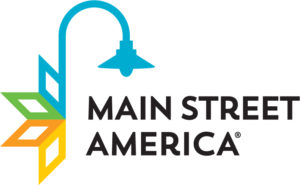 January 16, 2019 | Community Spotlight: Ice Climbing on Main Street

Photo credit: Benjamin Hake
Nestled in the heart of the San Juan Mountains is the tiny town of Lake City, Colorado. With more than 50 miles to the nearest town, this small Main Street community is implementing innovative strategies to keep their 400 year-round residents busy and to draw tourists to the area. The Lake City Ice Wall endeavor started a dozen years ago with a few hardy volunteers farming the ice. Free and open to the public, it is located by permission on public land and is adjacent to city limits and the Main Street boundary.
The ice wall boasts 10-15 routes, 60-100 foot pitches, bolster anchors, and mixed grades. There is a warming hut and you can typically find a crackling wood fire to warm up. Outdoor activities abound in the winter in Hinsdale County, which is the most remote in the Lower 48 states and one of the few places you can wander for more than 10 miles from a road or trail.
With 97% of public land used for year-round recreation, there's plenty of activities to do: 100 miles of groomed snowmobile and cross country skiing trails, a ski hill and terrain park with a Poma lift, a back-country haute route, ice fishing, and pond hockey tournaments. A new brewery, unique retail shops, and restaurants can be found in Historic Downtown Lake City, located just a block away from the Ice Wall.
Lake City DIRT runs the Main Street program and is one of three graduate communities in the state. For more information, visit www.lakecitydirt.com.
Permalink
https://www.mainstreet.org/blogs/national-main-street-center/2019/01/16/community-spotlight-ice-climbing-on-main-street
The National Main Street Center, Inc.
53 West Jackson Blvd., Suite 350
Chicago, IL 60604
Main Street America has been helping revitalize older and historic commercial districts for more than 35 years. Today it is a network of more than 1,600 neighborhoods and communities, rural and urban, who share both a commitment to place and to building stronger communities through preservation-based economic development. Main Street America is a program of the nonprofit National Main Street Center, Inc., a subsidiary of the National Trust for Historic Preservation.
© 2018 The National Main Street Center. All Rights Reserved.